Pricing
Starting at $135.00 per person (tax and gratuity not included in this price)
HST will be calculated at checkout and tips to your driver are at your discretion at the end of the tour.
Pickup Details
12:15 at 55 King Street, Picton (free, 24-hour parking lot)
12:30 at the Waring House (main reception lot) – 395 Sandy Hook Road, Picton
12:45 at the Bloomfield Town Hall – 289 Main St, Bloomfield
1:00pm at Lehigh Arena – 111 Belleville St, Wellington
Tour Details
4.5 hour tour
Visit 3 wineries
3 tastings at each winery; tasting fees included
Minimum 1 person, maximum 10 per booking
Note: in consideration of everyone on board, this tour is not dog friendly
This is a public group tour of up to 24 people total. A minimum of 4 people (not all from the same group) is required in order to run this tour.
BOOK THIS TOUR
Choose a date from the calendar to check availability.
Searching Availability...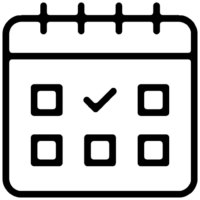 Last-Minute Bookings
If you're looking to book within the 5-day booking window, please send a detailed email to info@pecwinetours.com. Include date, number of people, and pickup address — and we'll see if we have availability.

Redeem a Gift Card
If you're trying to redeem a Gift Card, please contact the office. Call 613-393-8988 or email info@pecwinetours.com and provide them with the serial numbers on your gift card/certificate.

55 King Street, Picton
55 King Street is a free, 24-hour parking lot (with charging station) that runs parallel to Main Street, one block away from a number of great Picton restaurants. Consider making dinner reservations after your tour to cap off the evening. Click here for a complete list of local restaurants.

The Waring House
Located at the roundabout, the Waring House is the perfect mid-point between the other pickup points. Parking is available at the main reception area. The Barley Room Pub is located on site and often features live music in the evenings and delicious pub fare.
"Amazing experience! [...] planned extremely well."
—Noah,
"Great day of wine in The County!"
—Etai,
"Great tour, great host!"
—Fran,
"Pet-friendly wine extravaganza!"
—Dixie,